0.5%
Cobalt + Nickel
(Co + Ni)
DESCRIPTION
AMPCOLOY® 83 is a 1.9% Beryllium copper alloy which displays very high mechanical properties with a reasonably good electrical and thermal conductivity.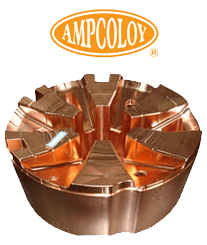 APPLICATION
Wherever good wear resistance or high mechanical properties are desired coupled with a good electrical or thermal conductivity, such as:
• Flash butt welding and butt welding• Parts for electrical components
In the plastic mould industry AMPCOLOY® 83 is sometimes used in the construction of chill plates and inserts in the moulds, cooling pins and neck rings or bottom plates for blow moulds of plastic bottles.
WARNING
Since the alloy contains 1.9% Beryllium, it is recommended that during any operation which is liable to create dust or fumes (for example dry grinding, polishing or welding) precautions should be taken to ensure there is no inhalation or exposure to eyes or skin. Conventional machining (for example milling and turning) is not generally considered hazardous.