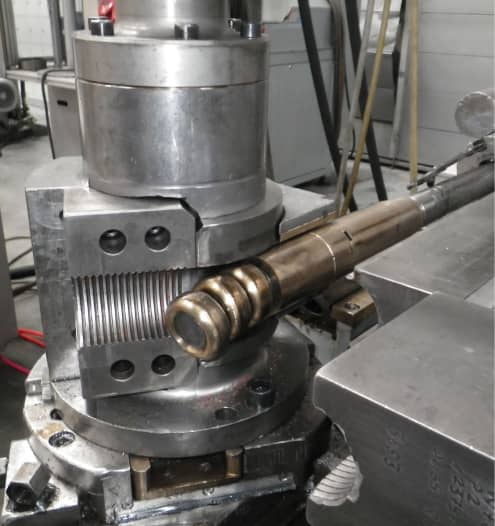 Tube bending is a metal forming process used to permanently form tubes by bending them. Tubes are an integral part of many industries. Be it as exhaust systems in the automotive industry, as handrails in the furniture industry, or as lines for service in the marine industry: bent tubes are significantly more useful than in their straight form.
To ensure that the resistant tubes can be bent at all, special tools are needed. Knowing that these tube bending tools require unparalleled quality and production tool longevity, AMPCO METAL developed AMPCO® 18, AMPCO® 18.23, AMPCO® 21, AMPCO® 22, and AMPCO® M4.
Specifically for tube bending of stainless steel and titanium material exhaust pipes, these engineered alloys are able to form both sides, delivering tighter roundness tolerance and all-around product efficacy. Read our free technical paper to learn about the advantages of copper-based alloys in tube bending.
How to bend a tube?
There are multiple ways of bending tubes. The most widely used techniques include press bending, compression bending, and roll bending.
Rotary draw bending

The most common and popular tube bending process. It offers the highest precision and involves a rotary draw bender, which bends the metal through a series of die sets, preserving a consistent centerline radius. Multiple tube bending tools are involved, when it comes to this process.
Although tube bending may sound simple, there are some challenges to face. To help you face problems regarding tube bending, we have listed the most common tube bending mistakes, including some tips on how to rightfully address them.
Tube bending tooling
When it comes to tube bending tools, there are a lot of components to think of. The following list is by no means complete, but it gives you a brief overview of the most common tools for bending.
Tube bending mandrels

Mandrels are used to offer internal support to the tube, mitigating defects such as crinkling or flattening.

Standard pitch mandrel
Most frequently used and most flexible mandrel. It creates a wide range of bend characteristics.
Close pitch mandrel
When it comes to thin-wall tubes with small bend radii, the close pitch mandrel is used.
Ultra close pitch mandrel
When it comes to very thin-wall tubes with very small radii, the ultra close pitch mandrel is used.
Plug mandrel
When it comes to thicker walls with larger centerline radii, the plug mandrel is your best option.

Tube bending dies

Tube bending dies fulfill a simple purpose: They are used to simplify the tube bending process, support the tube and help form the radius of the bend.

There are different types of dies:

Wiper die
A wiper die is used to stop the wrinkling from occurring on the inside radius of the tube. It is primarily used in tubes with a relatively thin wall and smaller bend radii.
Bend die
The bend die defines the radius of the bend. A tube is rotated around the outline of the bend die. Furthermore, it is also used to prevent the tube from flattening.
Clamp die
The clamp die grips the tube on its outside diameter and clamps it to the bend die, applying pressure between the clamping part of the bend die and the tube. This ensures that the bend die and the tube are firmly held together.
The best material for tube bending tools
Copper-based alloys such as aluminum bronze offer great advantages when it comes to tube bending tools. Mandrels and tube bending dies made of aluminum bronze provide a high-quality surface finish with an easy set-up, while maintaining minimum friction, no seizing, scratching, or corrosion starting point. Furthermore, they offer improved sliding properties, ultimately resulting in reduced costs and extended service life of the components.
AMPCO METAL has developed alloys that are highly suitable for all sorts of tube bending tools. For help determining the alloy and the product that best meets your needs, download our technical paper "Advantages of copper-based alloys in tube bending" or contact our technical experts.
Document Downloads