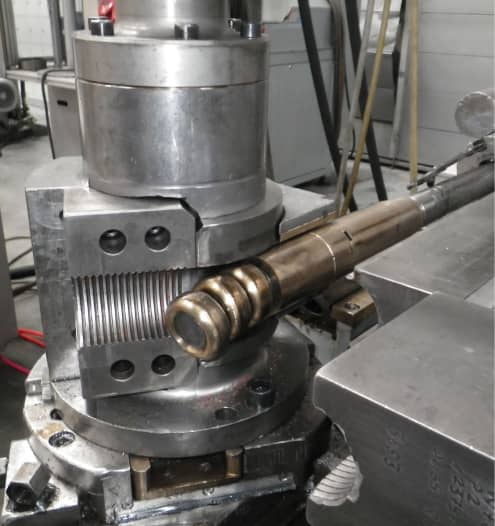 Provides high-quality surface finish with easy set-up.
Minimum friction making it easy to regrind.
No seizing, scratching or corrosion starting point.
Improves sliding properties.
Reduce cost and extend life.
Knowing that certain applications require unparalleled quality and production tool longevity, we developed AMPCO®18, AMPCO®18.23, AMPCO®21, AMPCO®22 and AMPCO®M4. Specifically for tube bending of stainless steel and titanium material exhaust pipes, these engineered materials are able to form from both sides, delivering tighter roundness tolerance and all-round product efficacy.
Advantages of AMPCO®21 and AMPCO®22 mandrels and balls:
Extended life
No hardening or expensive coatings on the mandrel required
No galling
Advantages of AMPCO®18, AMPCO®18.23 and AMPCO®M4 wiper dies:
Extended life (20 times longer with AMPCO®M4)
Easy set-up
No galling
No scratching
No corrosion starting point
This type of end formed tooling supports material forming from both sides to deliver tighter roundness tolerances for joining or welding
Advantages:
Provides high quality surface finish
Form non-symmetrical and symmetrical shapes
Easy to regrind
Document Downloads